For Shisha Tobacco Companies
APPLE FOR TOBACCO 54896/D
BLACK GRAPE BVA 54403-3/D
BLACK CHERRY 54859-2/D
CANTALOUP TBK 54490/D
MELON T. 54376/D
APRICOT T. 54295/D
ANISE LG 54180/D
APPLE TBK 54258/D
APPLE TBK 54258-2/D
COCONUT BB 54818-2/D
CHOCOLATE 54780/D
CHOCOLATE 54780-2/D
We have large collection of Vainilla
VANILLA 56466/D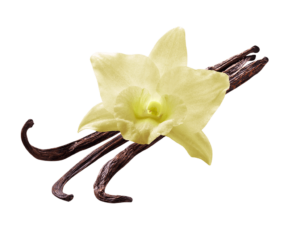 For Dairy Companies and Confectionary Industry
All these flavours are excellent for both juice, sherbets, yoghurts, milk shakes, ice creams, sweet cheeses, candies, carbonated drinks (not for chewing gums), and their dosage is around 1 gr. per kilo although it depends on the final taste of the customer to decide the optimal use that eventually varies from diverse media since some finish products need more flavour than other, because they balance from having no smell by themselves (carbonated drinks) to a lot of smell (cheeses or yoghourt), e.g. yoghourts and cheeses normally need more flavour than ice cream and ice cream normally needs more than juice, carbonated drink or sherbet. AURAROMA means that the flavour is so good that won quality prices or is being sold to big multinational companies.
AURAROMA VANILLA 54266/D. This is a great vanilla that won a quality price in the USA. It can be used in ice creams, biscuits, milk shakes, cream caramel, yoghourt, bakery, chocolates, etc. It is one of the best Vanillas in the world. Its dosage is between 0,50 and 1 gr. per kilo, but according to the needs and wishes of the customer can be overdosed.
AURAROMA STRAWBERRY 54734/A. Another jewel, can be used in ice creams, biscuit fillings, milk shakes, yoghourt, chocolate fillings, etc.
AURAROMA PEACH 54735/D. Excellent Peach flavour to be used in yoghourts, ice creams and juices.
AURAROMA PINEAPPLE 54880/A. Very expensive but one of the best pineapple flavours in the world. Uses like the previous one. Very good in yoghourts and juices.
AURAROMA PINEAPPLE 54879/A. Also good for chocolate fillings, but it is very good in yoghourts too.
PINEAPPLE 54680/A. Good for yoghourts, chocolate fillings and juices.
PINEAPPLE 54342/D. To be used in chocolate and biscuit fillings, candies and also for juices.
AURAROMA MANGO 56001/D. Excellent Mango (Indian Alphonso type). Useful in chocolate fillings, juices, yoghourts, etc.
AURAROMA RASPBERRY 54674/D. One of our best raspberries! To be used in ice creams between 0,5 to 0,75 grs. per kilo; in yoghourts between 0,5 to 0,6 grs. per kilo; milk shakes between 0,40 to 0,60 grs. per kilo; biscuit fillings between 0,75 to 1 gr. per kilo; bakery between 0,75 to 1 gr. per kilo; flavoured fruity teas dosage to be tested by the customer. Also to be used in chocolate fillings and biscuit fillings.
AURAROMA GREEN APPLE 54874/D. To be used in yoghurts between 0,70 to 1 gr. per kilo; juices at 0,20 to 0,50 grs. per kilo, ice creams and milk shakes between 1 to 1.20 grs. per kilo. Wonderful!
AURAROMA APPLE 56002/D. To be used in milk shakes and ice creams between 1.2 to 1,7 grs. per kilo. In yoghourts between 1.20 to 1.50 grs. per kilo. Juices from 0,50 to 0,60 grs. per kilo. All the fruit flavours (Apples, Pineapples, Raspberry, etc.) can also be used in candies and fruity teas.
AURAROMA HAZELNUT 54268/A. A jewel of technology and one of our most reputed flavours in the world useful in chocolate, chocolate fillings, liquors, etc.
AURAROMA BUTTER 54826/D. To be used in biscuits in combination with Vanilla and Cream Extra. Can be mixed with our Auraroma Vanilla 54266/D when making biscuits and our Auraroma Cream Extra 54946/D, the mixture depends on the taste of the customer and is one of their secrets.
BUTTERCOOKY 56003/D. A fantastic blend of cream, vanilla, butter and other ingredients, to be used in biscuits at a dosage between 1 to 1.20 grs. per kilo.
AURAROMA BUTTER COOKIES 54681/D. is one of the finest flavours, more delicate and balanced butter for use in biscuits and butter cookies, used with great success by one of the largest biscuit makers in Denmark whose products are exported worldwide.
Our Auraromas Vanilla 54266/D, Buttercooky 56003/D, Butter 54826/D and Cream extra 54946/D are great flavours for biscuits that have been made with a lot of research and selected amongst thousands of similar profiles.
For Milk Companies
AURAROMA FRESH MILK 54752/D. Its dosage in milk at 0,1% restores freshness and natural cream notes to pasteurized milk. TO BE USED AFTER THE PASTEURIZATION PROCESS!, WHEN MILK IS ALREADY AT ROOM TEMPERATURE.
We also have very successful flavours of milk chocolate, chocolate, mastic, caramel, coconut, yoghourt, cream, coffee, kiwi, pear, melon, watermelon, maracuya, peach-maracuya, guava, redcurrant, blackcurrant etc. They all are part of our hallmark!
Request samples, we can produce anything you may need. Minimum order 5000 Euros